Competition Theme Interpretation


"Kaizhou New City International Young Designer Competition" is not only an exploration to improve quality of urban public spaces, but also an exploration to find approaches of originality and artistic creativity. Taking the Central Park as the carrier as well as the reserved development plots and Renmin Canal as the design area, it is a good opportunity to rethink and look forward to future of the city from the ecological perspective.
The competition takes on a micro approach and small-scale intervention to a specific site directly, rather than the overall layout and macro strategy of Kaizhou New City. Meanwhile, it places an equal emphasis on design and social perspectives. With the design of urban structures to stimulate the city's vitality through urban renewal/repair functions, smart health or sports facilities, intelligent urban furniture, interactive art installations, intelligent lighting and way-finding systems, competitors are also required to put forward corresponding operation concepts in later phases, propose new perspectives, new stages and new focus to enrich the daily life, in hopes of finally achieving the goal of livable city and natural harmony.


Site Overview


Kaizhou New City, located in the east of Deyang City, Sichuan Province, covers two towns which are Jiqing and Xinglong, with administrative area of 200 square kilometers. A starting area of Kaizhou New City is 5.97 square kilometers and the planned construction area will be 49 square kilometers in 2035.The New City is 64 kilometers away from urban area of Chengdu and located within the scope of Chengdu Economic Zone of Ring Highway (SA3). Through Jinjianhuang and Jinjianren expressways, it can reach Tianfu International Airport within 1 hour. The New City is completely placed in concept sequence of "Greater Chengdu" at geographical environment level, which has equipped the hardware basis for coordinated development with Chengdu and defined as the bridgehead for Deyang to be integrated into development axis of Chengdu-Chongqing Urban Agglomeration.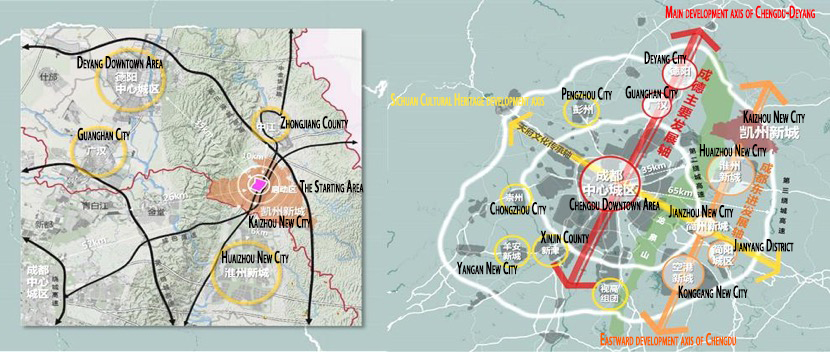 The Central Park of Kaizhou New City covers a total area of 3,200 mu (2.13 square kilometers).The overall terrain is flat with small hills. Shuanghekou Reservoir is located about 3 kilometers away from the west side. Renmin Canal passes through the site from west to east. Beautiful natural environment has formed its unique scenic landscape.
Renmin Canal in the Central Park belongs to the seventh phase of Renmin Canal Construction Project, which still plays a significant role of water conservancy in irrigating farmland. Renmin Canal was constructed since 1953, with total seven construction phases. After more than 20 years' construction, it is a large-scale water conservancy project of combined storage, diversion and pumping. It enables water of Minjiang River to irrigate the hilly area at the northern foot of Chengdu Plain through the Dujiang Dam, which has solved the problem for local farmland to be drought of nine years out of ten, improved the grain yield, and doubled the area of national strategic grain reserve base in Chengdu Plain.


Design Scope


Site I: Renmin Canal

The competition requires design and upgrade of public space along the Renmin Canal in the Central Park, with a total length of 6 kilometers, including water conservancy facilities such as aqueducts and canals. The blue line in the figure below is canal, and the yellow points are aqueducts.

Site I: Central Park

The competition requires space design and upgrade of development plot reserved in the Central Park, and areas inside the yellow lines in the figure below are the reserved development plots.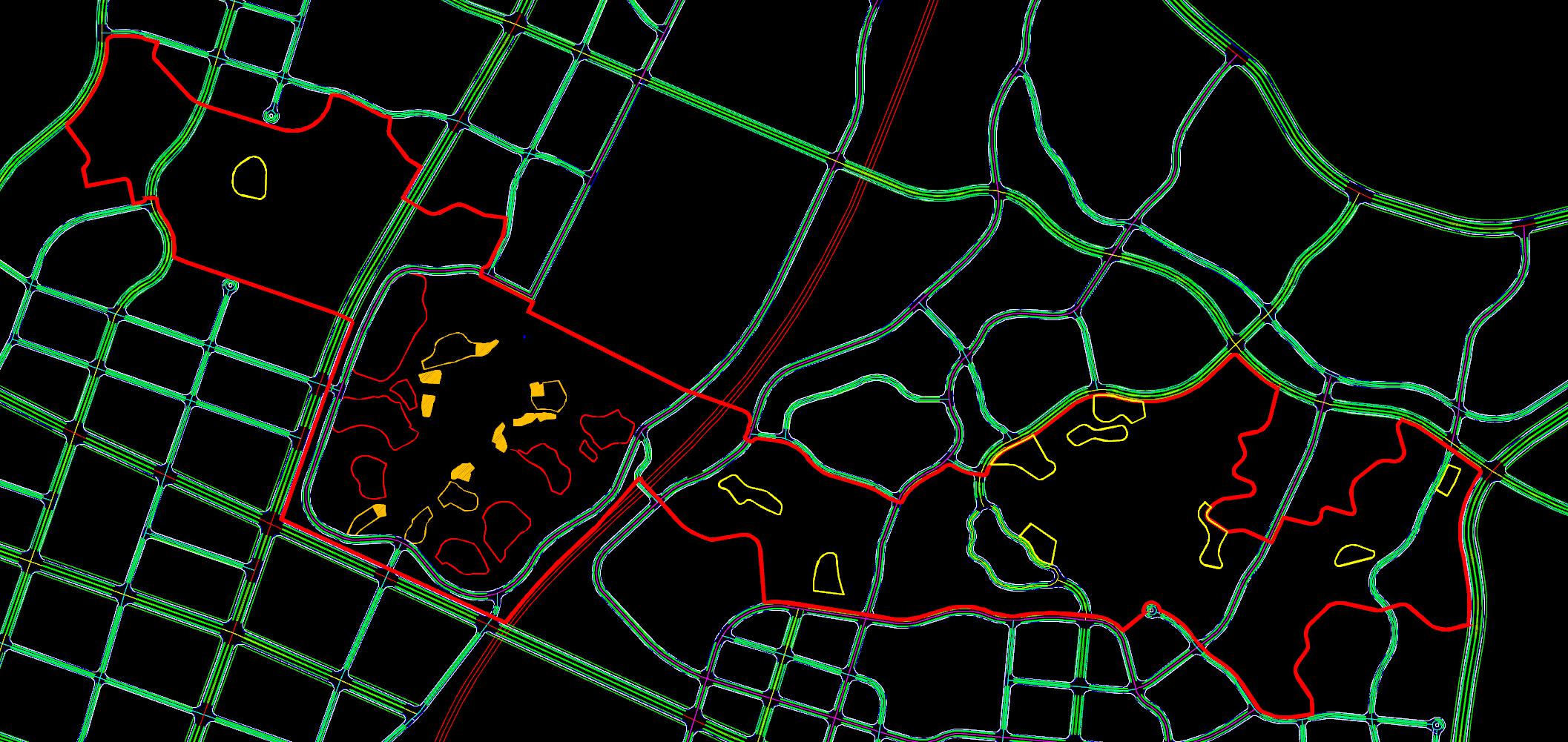 Notes: See attachment for details.


Competition Requirements


1.Design Principles

a)Creativity: Create diverse and interesting places for citizens and tourists. Design should be original;
b)Locality: Project should be designed with a comprehensive consideration of local history, culture, and natural environment with its regional features highlighted;
c)Sustainability: The sustainability of materials and operation should be considered;
d)Feasibility: The selection of material and the form of construction should all be feasible;
e)People-orientation: Designs should fully consider diverse needs of different groups of people and provide citizens and tourists urban spaces for activities.

2.Design Category

The competition focus on ecology and quality of life, as well as encourages innovation. Participants can select their own angles within design scope and draw up their own themes. The functions are not limited to:
a)Urban repair functions (Market, Public Toilet, Intelligent Sidewalk, Parking Lot, Snack Supply Station, Battery Car Stop, etc. in the Central Park)
b)Smart Urban Furniture (Digital Information Kiosk, Mail and Newspaper Kiosk, Cloud Cabinet, Courier Kiosk, Smart Bus Station, Smart Charging Station and Smart Trash Bin, etc.)
c)Health or Sports Facilities (Health and Fitness Facilities, Children Amusement Facilities, etc.)
d)Public Art Installations (Landscape Sculpture, Cultural Representation, Pavilions and Galleries, Verandas, Mountains and Rocks, Lamp Posts, Street Clocks, Public Seating and Trash Bins, etc.)
e)Small Individual Buildings (Watchtower, Tourist Center, Tea Room, Coffee Shop, Rest Pavilion, Restaurant and Gallery, etc. in the Central Park)
Participants can submit an independent work or a series of entries. Multiple entries are not accepted. The series works refer to the series of creations under the same theme, while production-oriented repetitive patchwork is discouraged.


Competition Procedure


1. Registration

a)The competition is open to international and national young designers, artists, teachers and students in school in the fields of planning, architecture, landscape and art design. Meanwhile, inter-professional and interdisciplinary practitioners are encouraged to participate. This is an open competition to the public, individual or team competitors are both accepted. Each team member is required to be under 40 years old. Each team can have no more than 5 members, and one team leader is assigned, with no more than 2 teachers as the instructors for students in school.
b)For registration, please log in the competition website: http://kaizhoucompetition.
chinabuildingcentre.com, click "register/sign-up" to register and fill in the information with details.
c)Please keep the sole registration number properly after submitting the registration information online (The registration number is the telephone number which is submitted).

2. Submission

All participants are required to submit digital files, including drawings and other information to the email address: kaizhou_competition@chinabuildingcentre.com named as "Submission + Title of Work". The Organizing Committee does not accept any hard copy. All design panels of participants will be printed in a unified format for jury review.

3. Jury Review

The jury will conduct professional evaluation on the competition entries and select finalists. The final winning projects will be determined during the jury review.

4. Question & Answer

a)Please email your questions about the competition to: kaizhou_competition@chinabuildingcentre.com
b)The leader of a team should be the sole responsible contact person to the Organization Committee.