Submission Criteria


1. Please submit digital versions of all panels and related documents to kaizhou_competition@chinabuildingcentre.com

2. Language: The official language of the competition is Chinese and English (title and design description must include English). Panels submitted by Chinese competitors should be in both Chinese and English; Panels submitted by international competitors should be in English.

3. Unit: International units (such as meters, millimetres, etc.)

4. Submission Requirements:
(1)Panels should be in A1 format (594mm x 841mm) in landscape orientation, each submission should include at least 3 panels, if more than 3 panels submitted, only the first 3 panels will be reviewed. Provide panels that best express the creative intention of the work, such as masterplan, renderings, plans, elevations, sections, key details and diagrams, as well as a 500-word design description (integrated within the panels), the panels scale is not specified. The style and scale of panels shall be at the discretion of each competitor, if there is a physical model involved, photographs of the physical model can be included.
Panel requirements as shown below: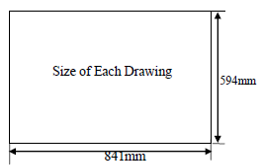 (2)Other auxiliary information may also be included in submission (such as design booklet, video, physical model, etc)

5. Document Requirements:
(1)Competitors are required to attach a recognizable scanned copy of their identification to their email submission (scanned copy of ID for Chinese participants and scanned copy of passport for international participants). To compete as a team, all team members should provide scanned copies of identification.
(2)Submission should include a document (txt/word format), with the project title as the document name, within the document, full name of all team members, registration serial number, email, telephone number, team name/name of academy, project title as well as project description should be included.
(3)Competitors should download the "Original Works Statement" from the official website, sign, scan and submit it within the email submission along with the entry.

6. Panel File Format Requirements:
(1) Submitted panels should be in JPG format, with resolution no less than 300dpi, the long side of the panels should be no less than 1500pixels. Please name submitted panels in accordance to panel content (e.g. XXX floor plan 1).
(2)Text documents should be in TXT or WORD format, and should be sorted and organized within a folder with the name of the work.


Competition Regulation


1. Individual participants and groups shall agree with and follow the competition requirements and regulations. The organizing committee reserves the right of final interpretation.
2. The name or any related information that would lead to the identification of the participant(s) should not appear in any means on the submitted panels. Entries with words or pictures relating to the name or department of participants in the digital drawings will be disqualified from the competition.
3. Participants possess the copyright of the submitted works, while the organization committee can exercise all other rights except authorship.
4. Entries will not be accepted if found to be published under others' name or in other competitions.
5. Juries cannot act as advisers to participants; otherwise participants will be disqualified from the competition.


Basic Information about Kaizhou New City
Kaizhou New City, located in the east of Deyang City, Sichuan Province, covers two towns which are Jiqing and Xinglong, with administrative area of 200 square kilometers. A starting area of Kaizhou New City is 5.97 square kilometers and the planned construction area will be 49 square kilometers in 2035. The New City is 64 kilometers away from urban area of Chengdu and located within the scope of Chengdu Economic Zone of Ring Highway (SA3). Through Jinjianhuang and Jinjianren expressways, it can reach Tianfu International Airport within 1 hour. The New City is completely placed in concept sequence of "Greater Chengdu" at geographical environment level, which has equipped the hardware basis for coordinated development with Chengdu and defined as the bridgehead for Deyang to be integrated into development axis of Chengdu-Chongqing Urban Agglomeration.
ORGANIZATIONS
Sponsor: Kaizhou New City Management Committee of Deyang City
Organizer: Deyang Kaizhou Investment Development Co., Ltd.; CBC(China Building Centre)
Academic Support:International Urban and Rural Innovation & Development Research Center
Media Support: Urban Environment Design (UED) Magazine

Contact


Mainland China:
+86 (0)10 56077246;
ZHANG Jing Yu
+86 18511537507;zhangjingyu@chinabuildingcentre.com
LIANG Jiang Man
+86 18600687323;liangjiangman@chinabuildingcentre.com
China Hong Kong, Macao, Taiwan and abroad:
Star DUAN +86 18201019047;duanxingxing@chinabuildingcentre.com
Joy WANG +86 13189714339;wangjiayue@chinabuildingcentre.com

Competition Email:
kaizhou_competition@chinabuildingcentre.com
Competition Website:
http://kaizhoucompetition.chinabuildingcentre.com/en_index.html